October 18 - Unwind and "Tweat" Yourself @ Wild Birds Unlimited 5-7pm
Come enjoy a relaxing evening previewing new items at WBU. We will be introducing a new product: Indigo Bath and Body. Indigo Bath and Body will be here to show you their products and answer questions. These products are AWESOME!!! Come "tweat" yourself to some great, Georgia grown and produced spa products and have fun with fellow bird and nature enthusiasts.
October 13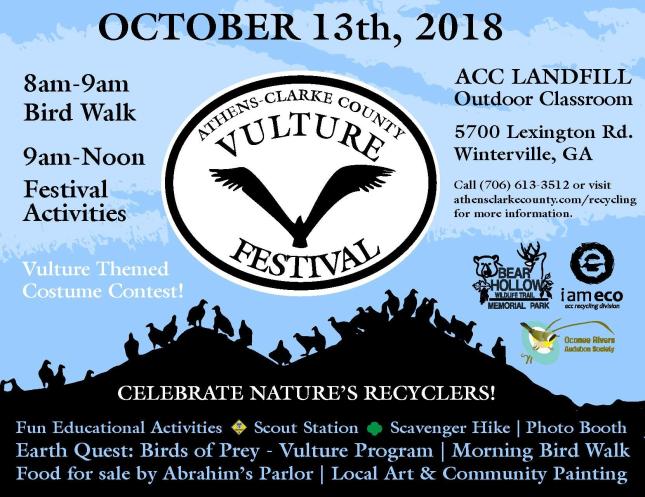 September 22 - Multiple Events
Bird Walk at Hardigree Wildlife Sanctuary 8-10 am
Georgia Grows Native for Birds, 10 am - 2 pm; Native Plant and Seed Swap with Oconee Rivers Audubon Society (ORAS) AND Backyard Wildlife Sanctuary Certification @ 11 am; Come learn how you can help birds and wildlife in your area.
September 14- 16 One Year Anniversary Celebration
Give aways, special promotions, and...
Georgia Rare Gems @ 9 am and 11 am on Saturday, Sept. 15
Georgia has over 100 species of threatened or endangered plants and animals. Come learn more about how you can help! Pete Griffin from Charlie Elliott Wildlife Center will be presenting bio-facts and even showing some of the animals endangered.
August 25 - Big Changes for Little Bugs book reading by local author @ 11 am
Karen Clark is a local author writing to inspire and encourage children who face changes and need hope to overcome difficult times. Her four bug characters face a big change when a storm destroys their Butterfly Bush home. They find a new home and several special things about themselves.
Your kids will love this wonderful book! We will have a book reading and she will be signing copies.
Also, we will have a free fun kids project to feed the birds in your yard.
May 31st - Duchess' Birthday Party!
May
5 @ 11:00am: Optimizing Your Optics - How to Select and Utilize Your Binoculars
6 @ 8:00am: Bird Walk at Hardigree Wildlife Sanctuary (lasts until 10-11am)
April
7 @ 11:00 am: Tips, Tricks, and Cheats for Great Bird Photos
15 @ 1:00 pm: Everything You Need To Know About Building a Hummingbird/Butterfly Garden
March
24: Bird Walk at Hardigree Wildlife Sanctuary at 8:00 am to 10:00 am
24: Birds of Prey 11:00 am
February

10: Everything You Need to Know to Participate in the Great Backyard Bird Count
17: Bird Walk at Hardigree Wildlife Sanctuary at 8:00 am
January
13: In-store Presentation: Building Your Backyard Sanctuary with Plants at 10:30
20: Bird Walk at Hardigree Wildlife Sanctuary at 8:00 am
27: In-store Presentation: Nature Photography